Our works and business have appeared in the following publications:

Faux Effects World
American Painting Contractor
Delta Style Magazine
Louisiana Road Trips Magazine
Artistic Stenciler
Monroe News-Star
SB Magazine

"Designer Faux Finishing" a book by Victor DeMasi

Simply Creative Faux Finishes with Gary Lord: 30 Cutting Edge
Techniques for Walls, Floors and Ceilings


---
Our works have appeared in these publications.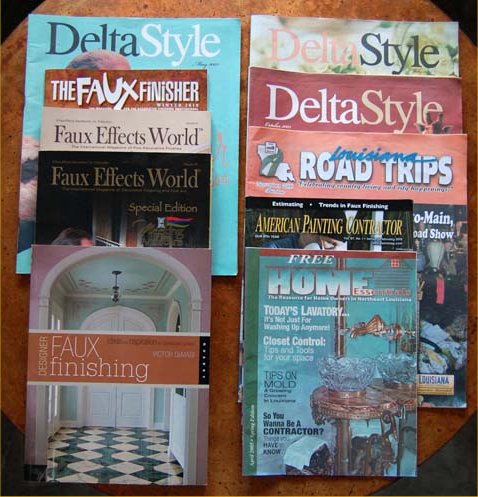 ---

Comments from some of our clients and peers.
"I took the opportunity to look over your web site. In all my years in this business I can honestly say I have never seen anything so beautiful. As of August 2005 I am officially retired (so that I can serve a full time mission with my husband for our church). BUT if I were to continue ... I would like the rest of my professional life to learn your craft."
- Dawna


"I just want to tell ya'll that the bedroom furniture so far exceeded my expectations, it is absolutely perfect. Ya'll did such a beautiful job and it means so much to me to have my grandmother's furniture looking so beautiful. So thanks again for all your hard work and creativity."
- Kate G


"Thank you Connie and Randy for your meticulous workmanship and for your valued friendship. xoxo-"
- Jesse & Carol M.


"Painters? .... They're not painters, they're magicians!
- Jerry B.


"Randy & Connie, I do appreciate your beautiful work, thanks..."
- Monnie B.